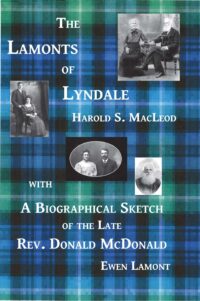 The Lamonts of Lyndale
When Malcolm Lamont and his wife Elizabeth MacDonald came from the Isle of Skye in Scotland to Prince Edward Island in 1829, they founded a family that would spread to western Canada and the southwestern United States: the Lamonts of Lyndale. This work of genealogy and Prince Edward Island history traces Malcolm and Elizabeth's descendants to 2003, when the book was originally published.
The book begins by tracing the roots of the family back to the Middle Ages on Skye. Harold MacLeod's lively anecdotes and narrative of the Lamonts and their offspring, as well as genealogical tables, form the main body of the book. The last section is an index of all the names in the book, allowing readers to search for themselves or their ancestors in the Lamont family tree.
But this edition of The Lamonts of Lyndale includes a bonus not included in Harold MacLeod's original book: A Biographical Sketch of the Late Rev. Donald McDonald (1892) by Ewen Lamont. The ministry of the charismatic Rev. Donald MacDonald profoundly affected the Lamont family and their offspring. The MacDonaldite movement came to contribute to what it meant to be a Prince Edward Islander, as attested by the story of Norman MacDonald, a soldier in the First World War, who hearing a MacDonaldite hymn from a nearby tent, thought: "These are my people. I must go up and see who they are." Ewen Lamont's book gives a compelling and readable account of the ministry of this extraordinary man.
Whether you are interested in Lamont genealogy, Prince Edward Island history, or the history of Presbyterianism in Canada, this book is for you.