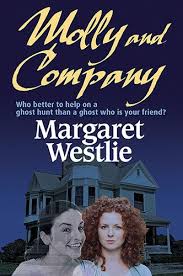 Molly and Company
$6.99
A haunted house. An unruly spirit. Ghost hunt, anyone?
Connie Poste is frightened by the unsettling phenomena disturbing her isolated house, while her husband lies in a coma. But what is she hiding from the ghost-hunting team? And what does it have to do with an unruly spirit who needs rehabilitation on the other side?
Molly and Company is the second book in the Partners Paranormal series by Margaret A. Westlie. Alternately funny and frightening, Molly and Company will take you to both sides of the veil.
Read Molly and Company and follow the continuing adventures of the Partners Paranormal today!
Brand
Margaret Westlie, Novelist
Margaret Westlie
writes in two genres, one derives from her Scottish ancestry and the other from her interest in the occult and paranormal. She lives in beautiful Prince Edward Island, Canada, where her novels are set. Westlie's novels bring 19th century Prince Edward Island to life, presenting perennial themes of women's lives: marriage, childbirth, and death; troubled relationships and reconciliation; loneliness and community. Yet she does so without bleakness or despair, presenting a realistic but hopeful portrayal of women able to draw on their own strengths to confront and triumph over adversity. She calls these novels Settlers' Stories to honour her ancestors, the Selkirk Settlers. Margaret also appeals to the imagination of those who are drawn to the supernatural and occult by creating memorable characters, both worldly and other-worldly, who hunt the ghosts of contemporary Prince Edward Island and bring peace to those troubled by them. She has also written a book with an extraterrestrial theme. She calls these books Spooky Fun, to emphasize that the novels are entertaining without being frightening.