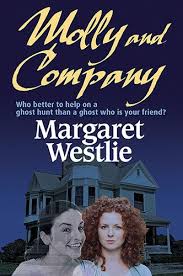 Molly and Company
A haunted house. An unruly spirit. Ghost hunt, anyone?
Connie Poste is frightened by the unsettling phenomena disturbing her isolated house, while her husband lies in a coma. But what is she hiding from the ghost-hunting team? And what does it have to do with an unruly spirit who needs rehabilitation on the other side?
Molly and Company is the second book in the Partners Paranormal series by Margaret A. Westlie. Alternately funny and frightening, Molly and Company will take you to both sides of the veil.
Read Molly and Company and follow the continuing adventures of the Partners Paranormal today!