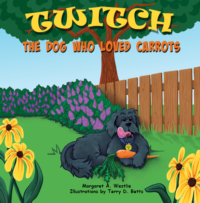 Twitch, The Dog Who Loved Carrots
Twitch is an adorable Shih Tzu with a love for carrots. He enjoys naps in the shade of the porch, playing in the yard, but he cannot resist the smell of fresh carrots. When he discovers a way to steal carrots from his neighbour's garden, his mischief goes undetected for a time until his owner finds a solution: a carrot as a reward for being a good dog.
This children's picture book is intended for boys and girls of five to seven years of age who are just beginning to read. It teaches that actions have consequences, but that good behaviour brings rewards. It also presents a loving relationship between a parent (the dog's owner) and a child (represented in this case by the dog), and friendly relationships between neighbours, where differences are settled by conversation and compromise.
The playful and colourful illustrations by PEI artist Terry D. Betts bring the story to life and will engage both children and their parents.
The story of Twitch is based on the author's own dog, whose name is also Twitch. Twitch is a Shih Tzu who loves fresh fruits and vegetables. But his favourite treat is a chunk of raw carrot, preferably organic.Children's picture book about an adorable Shih Tzu who cannot resist stealing carrots from the neighbour's garden.
Description
This children's picture book is about an adorable Shih Tzu who cannot resist stealing carrots from the neighbour's garden.
Brand
Margaret Westlie, Novelist
Margaret Westlie
writes in two genres, one derives from her Scottish ancestry and the other from her interest in the occult and paranormal. She lives in beautiful Prince Edward Island, Canada, where her novels are set. Westlie's novels bring 19th century Prince Edward Island to life, presenting perennial themes of women's lives: marriage, childbirth, and death; troubled relationships and reconciliation; loneliness and community. Yet she does so without bleakness or despair, presenting a realistic but hopeful portrayal of women able to draw on their own strengths to confront and triumph over adversity. She calls these novels Settlers' Stories to honour her ancestors, the Selkirk Settlers. Margaret also appeals to the imagination of those who are drawn to the supernatural and occult by creating memorable characters, both worldly and other-worldly, who hunt the ghosts of contemporary Prince Edward Island and bring peace to those troubled by them. She has also written a book with an extraterrestrial theme. She calls these books Spooky Fun, to emphasize that the novels are entertaining without being frightening.