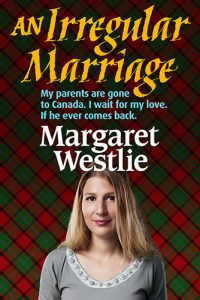 An Irregular Marriage
$6.99
Her parents are gone. Her sweetheart is absent. Where is Annie's home?
Annie's family has left for a new life in Canada. Annie plans to make her home with Alistair, her betrothed. Instead she find herself alone in Scotland. Belle, Alistair's mother, takes her in as her apprentice in midwifery and healing, while waiting for Alistair to return. But why does she discourage the marriage? Where will Annie find a home?
Readers of clean young adult fiction as well as women looking for a good read with a strong female lead will enjoy this historical novel set on Prince Edward Island. Discover Canadian novelist Margaret Westlie today.
Read An Irregular Marriage today and discover how Annie finally makes her own home.
Brand
Margaret Westlie, Novelist
Margaret Westlie
writes in two genres, one derives from her Scottish ancestry and the other from her interest in the occult and paranormal. She lives in beautiful Prince Edward Island, Canada, where her novels are set. Westlie's novels bring 19th century Prince Edward Island to life, presenting perennial themes of women's lives: marriage, childbirth, and death; troubled relationships and reconciliation; loneliness and community. Yet she does so without bleakness or despair, presenting a realistic but hopeful portrayal of women able to draw on their own strengths to confront and triumph over adversity. She calls these novels Settlers' Stories to honour her ancestors, the Selkirk Settlers. Margaret also appeals to the imagination of those who are drawn to the supernatural and occult by creating memorable characters, both worldly and other-worldly, who hunt the ghosts of contemporary Prince Edward Island and bring peace to those troubled by them. She has also written a book with an extraterrestrial theme. She calls these books Spooky Fun, to emphasize that the novels are entertaining without being frightening.