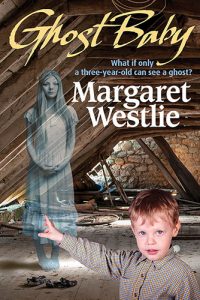 Ghost Baby
$6.99
What if only a three-year-old can see a ghost?
Amanda McIntyre loves her historic house, but she is afraid to be there alone. What does her friend's son Roddy see in the attic? And whose baby cries during the night? As the ghost-hunting team investigate the history of the old house, they find some clues but no answers. They key lies in a surprising link between Amanda's pregnancy and Roddy's ghostly sighting.
Ghost Baby is the third book in the Partners Paranormal series by Margaret A. Westlie. Suspenseful, surprising, and delightful, Ghost Baby will keep you turning the pages.
Read Ghost Baby and follow the continuing adventures of the Partners Paranormal today!
Brand
Margaret Westlie, Novelist
Margaret Westlie
writes in two genres, one derives from her Scottish ancestry and the other from her interest in the occult and paranormal. She lives in beautiful Prince Edward Island, Canada, where her novels are set. Westlie's novels bring 19th century Prince Edward Island to life, presenting perennial themes of women's lives: marriage, childbirth, and death; troubled relationships and reconciliation; loneliness and community. Yet she does so without bleakness or despair, presenting a realistic but hopeful portrayal of women able to draw on their own strengths to confront and triumph over adversity. She calls these novels Settlers' Stories to honour her ancestors, the Selkirk Settlers. Margaret also appeals to the imagination of those who are drawn to the supernatural and occult by creating memorable characters, both worldly and other-worldly, who hunt the ghosts of contemporary Prince Edward Island and bring peace to those troubled by them. She has also written a book with an extraterrestrial theme. She calls these books Spooky Fun, to emphasize that the novels are entertaining without being frightening.