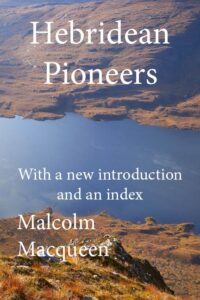 Hebridean Pioneers
Originally published in 1957, Hebridean Pioneers by Malcolm A. Macqueen presents a thorough, well-researched account of the Scottish immigration to North America, and more specifically Prince Edward Island, Canada. Hebridean Pioneers is the result of 40 years of research and travel on the part of the author, who retired from a successful career in law and real estate to devote his time and energy to investigating the origins of his people, the Scots who left the Highlands for a new life in a new world.
Skye Pioneers and "The Island" (1929), Macqueen's first book, is one of the earliest and best known works of genealogy and family history published in Canada. Hebridean Pioneers improves on Skye Pioneers. It is carefully written, well documented, and rich in the kind of source material historians and genealogists seek: names, facts, dates and places. Yet Hebridean Pioneers is far less cited than Macqueen's earlier work, and less often consulted.
This new edition seeks to make this resource more widely available with a reformatted, easy-to-read text. This edition includes not only the entire text of the original edition, but also an introduction and an index of names, making the work more accessible and easier to use as a reference book. We hope it is of use to researchers seeking information about their ancestors or the history of Scottish immigration to Canada.